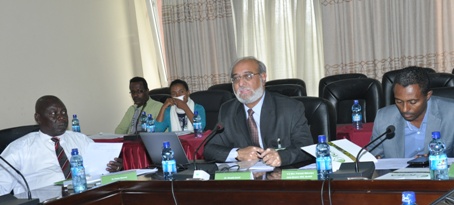 Continuing efforts to restore degraded lands back into production and minimize further spread of salinity through irrigation and crop management, the International Center for Biosaline Agriculture (ICBA) and its partners have launched a new project called Rehabilitation and management of salt-affected soils to improve agricultural productivity (RAMSAP).
Funded by the International Fund for Agricultural Development (IFAD), the project aims to rehabilitate salt affected and degraded lands through introduction of salt- and drought- tolerant forages and halophytes to bring farms back into production in Ethiopia and South Sudan. 
Running for four years, the project will target 5,000 smallholder farmers directly in 10 selected field sites, five in each of the two project countries with each site comprising 50-100 farms to cover a total of about 300,000 ha (directly and indirectly) of the farmlands. It will test different interventions of irrigation and water management and crop production practices in the selected pilot areas.
Speaking at the event to kick off the project in Ethiopia on March 23-24, 2016, Dr. Shoaib Ismail, Director of the Research and Innovation Division at ICBA, said: "We plan to develop strong linkages between smallholder farmers, rural producers and different extension and research organizations to identify and adopt best adaptation and mitigation strategies for soil salinity, increasing farmer incomes and improving livelihoods of poor rural communities, especially women."
The main implementing and coordinating agencies in Ethiopia include the Ministry of Agriculture and Natural Resources; Ethiopian Institute of Agricultural Research; Agriculture Transformation Agency. In South Sudan the partners are the Directorate of Research and Training; the Ministry of Agriculture, Forestry, Rural Development and Cooperatives. International centers like ILRI, ICRISAT, IFPRI, CIMMYT and ICRAF will also be involved in the project targeting forage production based on earlier experiences.