Online training course: On-farm fertilizers, pesticides and waste management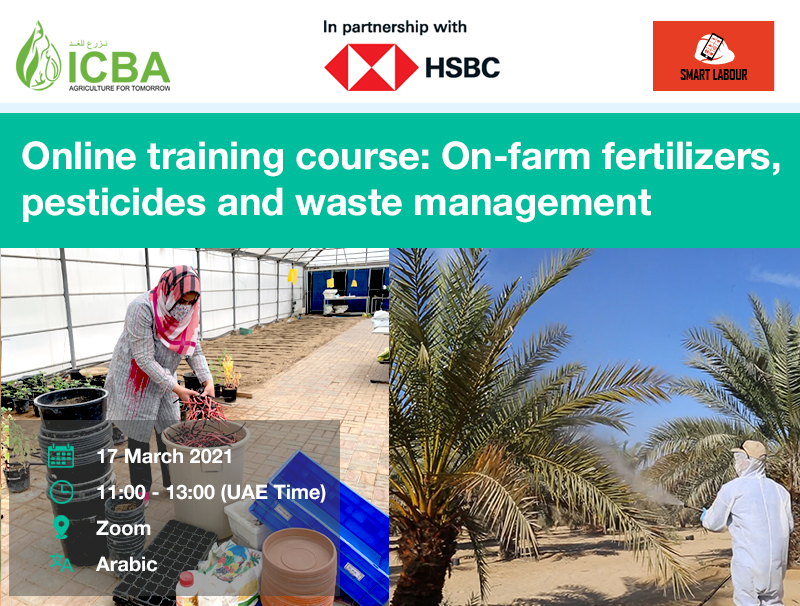 17 March, 2021
11:00 AM - 01:00 PM
Overview:
In partnership with the HSBC Bank and Smart Labour, the International Center for Biosaline Agriculture (ICBA) is organizing an online training course titled "On-farm fertilizers, pesticides and waste management".
Objective:
The training program's main objective is to demonstrate some of the best practices in farm management.
Other objectives include:
Provide participants with information on better practices in fertilizers and pesticide application.
Familiarize participants with on-farm waste management practices.
Showcase example of integrated farm management in the United Arab Emirates (UAE).
Target audience:
Agricultural waste management experts
Extension officers
Farmers/ farm owners
Agronomists
Other agriculture experts
(Only participants meeting the above criteria will be invited to attend the training)
Target location:
Middle East and North Africa
Language:
Register here: 
Closing date for registration: 
Organizers
ICBA
HSBC Bank
Smart Labour
Presenter(s)
Dr. Henda Mahmoudi, Plant Physiologist, ICBA
Mr. Abdulrahman Rashid Alshamsi, Emirati entrepreneurial farmer

Training Coordinator
Mr. Ghazi Al-Jabri, Capacity Development Specialist, ICBA