Online training course: Proper irrigation management practices under saline conditions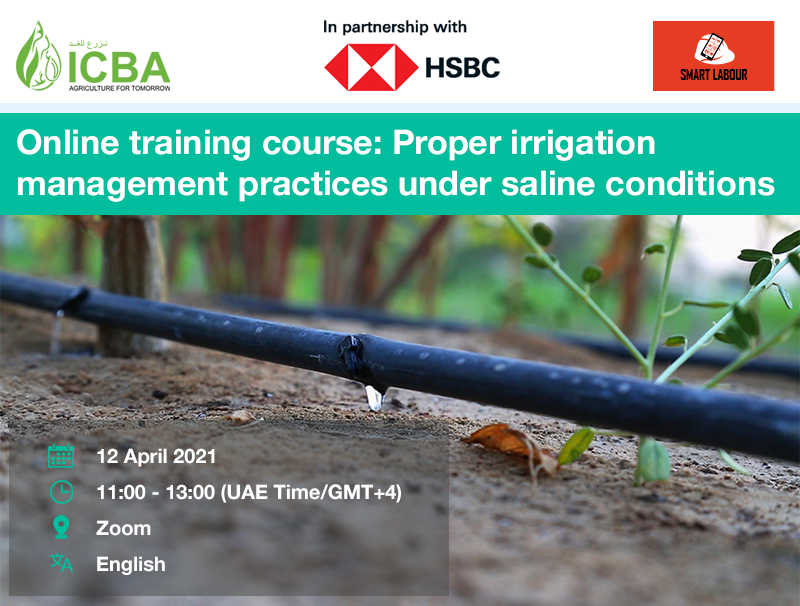 12 April, 2021
11:00 - 13:00 (UAE Time/GMT+4)
Overview
In partnership with the HSBC Bank and Smart Labour, the International Center for Biosaline Agriculture (ICBA) is organizing an online training course titled "Proper irrigation management practices under saline conditions".
Objective
The training program's main objective is to demonstrate some of the best irrigation practices under desert and saline conditions.
Other objectives include:
Familiarize participants with on-farm water management practices to improve productivity.
Introduce concepts of soil-water-plant relationship to participants.
Target audience:
Agricultural water management experts
Extension officers
Farmers/ farm owners
Agronomists
Other agriculture experts
(Only participants meeting the above criteria will be invited to attend the training)
Target location
Middle East and North Africa
Language
 Register here: https://zoom.us/webinar/register/WN_kQO2ArgHRZ-KCwp-hcBHZg
Closing date for registration: 11 April 2021, 12:00h/ GMT+4
Organizers
ICBA
HSBC Bank
Smart Labour
Presenter(s)
Dr. Asad Sarwar Qureshi, Senior Scientist - Water and Irrigation Management, ICBA
Training Coordinator
Mr. Ghazi Al-Jabri, Capacity Development Specialist, ICBA